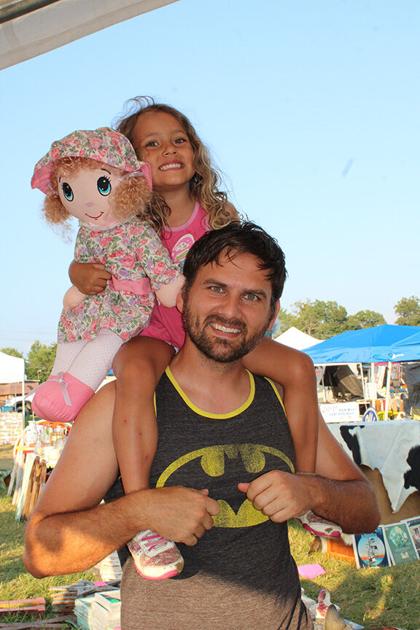 127 reasons to love the garage sale | Lifestyles
This year was a little different for our traditional 127 Corridor Sale family haggling and junkyard contest. First of all, the school starting the same week limited our availability. Second, as a result of the pandemic that resulted in lower participation and concentration of garage salespeople last year, this year it seemed like our usual garage sale haunts had shifted to the larger groups of garage salespeople. vendors north of the highway. 127. Third, the monsoons and pop-up thunderstorms literally put a damper on the whole event.
There were several places I wanted to stop, but we just couldn't do as much as we wanted at Sale 127 this year.
I gave the kids $ 10 each to spend. It used to be $ 5, but the kids made a good point about inflation. We found some unique items and had some great ideas for future crafting and decorating projects.
The first thing the kids got into was fudge. How? 'Or' What? Well I'm glad you asked.
One of the first tent stands we arrived at was Rick Hensley's. Originally from Howenwald, he and his wife retired here. He gave the kids his homemade peanut butter fudge for free. In addition to the fudge, he had antiques and other items he sold to raise funds for his annual mission trip to Mexico. Hensley said he goes to Garage Sale 127 every year and has done well this year.
As the girls walked around indulging in their peanut butter fudge, Zolah spent her entire allowance, while Zeke and Zuranda spent only half. We had planned to go back on the last day of the sale, but were unable to do so. So we left with what we had.
Zeke found a Playstation game he wanted and still had $ 5 in his pocket, so he was happy. Zolah bought Beanie Boos, a pop it Fidget toy, and the deliciously sweet, locally made Monkey Farts lotion by small business Naturally Sassy. I bought Watermelon Lip Balm and Naturally Sassy Tea Tree Soap. Zuranda bought Beanie Boos and a few small ceramic figurines, one of which was a penguin that she wanted for Zolah (who loves penguins) for her next birthday in two days. Overall, she bought what she wanted and still had $ 5 in her pocket.
I found a large metal "Z" with a perfectly rusty patina that would have been on such a business or building. I had already spent $ 6, but since all of my babies are Z people, I decided to forgo my contest entry and went over the allowance to buy it for $ 10. That's all I wanted. Well, maybe not all I wanted, but I was really excited about it. The other thing I wanted was an imported cast iron baby tub that I wanted to put outside so that I could use it as an oversized sink to wash our crop, but I had to prioritize school clothes, new school bags. back and all that jazz in my calculations. It just wasn't worth what they asked for to me, but I loved the idea and will put it on the back burner for later. I also really liked the Sunshine Ln. and W. Main Street signs. Come to think of it, I don't think I even asked how many there were and wish I had.
During the short time we were at Sale 127, the vendors gave my kids a sweet gift of fudge to munch on, we were able to support a small business, and our little girl bought her sister a gift of birthday thanks to his competition allowance. As we walked, we saw antiques that offered a history lesson, inspirational items, things that spurred creativity, and unique merchandise that brought out silliness and fun. We met people, their babies and their puppies that we will probably never see again, but it was nice to have the opportunity to meet them at least once in this life.
There are at least 127 reasons why we love the 127 Garage Sale.