a dialogue with the artist jeff koons: have confidence in yourself!
"ART IS ABOUT WHAT HAPPENS INSIDE YOU" – JEFF KOONS
in our recent interview, jeff koons speaks of his art as an extension of the democratic principle – that there are moral dividends to be drawn from "participation", and that "art is about what goes on inside you" . yes, and that, as a logical extension of his practice, he will soon tackle NFTs.
designboom met the american artist at the launch of its new collaboration with bmw at the pinakothek der moderne museum in munich. here is some good conversation, please enjoy!
INTERVIEW WITH JEFF KOONS
DESIGNBOOM (DB): many of your early works commented on the fetishistic appeal of consumerism. do you think people's behavior has changed since then? has your perception of current society changed?
JEFF KOONS (JK): my first works come from the tradition of the "Duchampian" type ready-made. when i started working with reflective materials i would put inflatable flowers and just put them on mirrors and they were against the wall. I was really in a tradition of Robert Smithson's work, but eventually when I started pouring things I saw Jim Beam JB Turner train. a train that is made of alcohol, and I thought, when I looked at it, it would really be a Duchampian play,…
ready-made combos in which inflatable figures are placed on and in front of mirrors
'inflatable flowers', vinyl and mirror, 1979
artwork © jeff koons, images courtesy of the artist
Editor's Note: jim beam – JB Turner train was the centerpiece of Jeff Koons' gallery debut of the "Luxury and Degradation" series. the works focus on the discord between the marketing of alcohol as a luxury good associated with leisure, sex and sophistication, and the often destructive, ugly and unintended effects of binge drinking. the outward appearance and promise of something clashes with its inner life and meaning. Cast from stainless steel, each of the seven cars contains one-fifth of bourbon.
koons takes Jim Beam's collectible decanter train and transforms what the company has promoted as a rare collector's item into a truly rare luxury item: a work of art. inside, however, is the same common spirit available at any liquor store. image courtesy the broad.
JK (continue): and then immediately, I thought that the stainless steel had a mirror finish. the alcohol inside this decanter is really the soul of the piece. "How can I do this and preserve that?" I thought so, I'm going to go back to Jim Beam, and have them fill the bottle.
it was for this intoxicating and visually intoxicating experience of looking at this piece, and having the desire and understanding of the degradation – the desire that an alcoholic might have – and the degradation that takes place in the pursuit of luxury.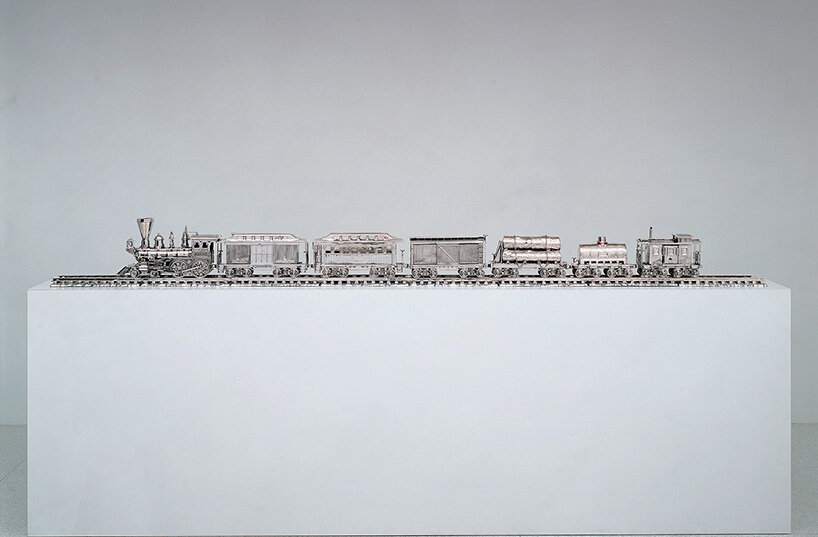 'jim beam – JB Turner train', 1986, stainless steel and bourbon, 27.9 x 289.6 x 16.5 cm
artwork © jeff koons, image courtesy of the artist
JK (continue): my dialogue on reflection has always been a philosophical dialogue. the material was proletarian material, i didn't work with sterling silver, i didn't work with platinum. it was a material with which to make pots and pans, as well as spoons and forks. I wanted to have a dialogue about experience and reflexivity.
I have an exhibition that will open soon in Florence called 'shine', which comes from German philosophy because I realized, I always come across a reflection, 'shine', on the whole experience of truly transcending, becoming,… through this idea of ​​light and reflection.
Editor's Note: works that have entered our collective imagination because of their ability to merge the academic with popular culture through their references to the history of art and their allusions to the world of consumer society. Jeff Koons found a key principle in the idea of ​​"shine," which called our relationship into question. with reality but also the very concept of a work of art. the artist's works place the viewer in front of a mirror in which they can both see themselves in their environment and thus experience affirmation.

bear and policeman, 1988 polychrome wood 215.9 x 109.2 x 94 cm, kunstmuseum wolfsburg
artwork © jeff koons, image by designboom
JK (continue): the artist's job is to make a gesture and really show people what their potential is. it is not about the object, and it is not about the image; it is about the spectator. this is where the art happens. So that's what I'm dealing with.
I worked with materials to arouse desire and visceral experience. but it was never a question of luxury. sometimes people like to try to take it as a triangular dowel and make it known, insert it into a circular hole. and due to my experience – that I worked at MoMA (museum of modern art) in sales, and I loved interacting with people, so I ended up doubling the membership and then I worked on Wall Street as a broker, to fund my art practice – it kind of tied me into this consumerism story.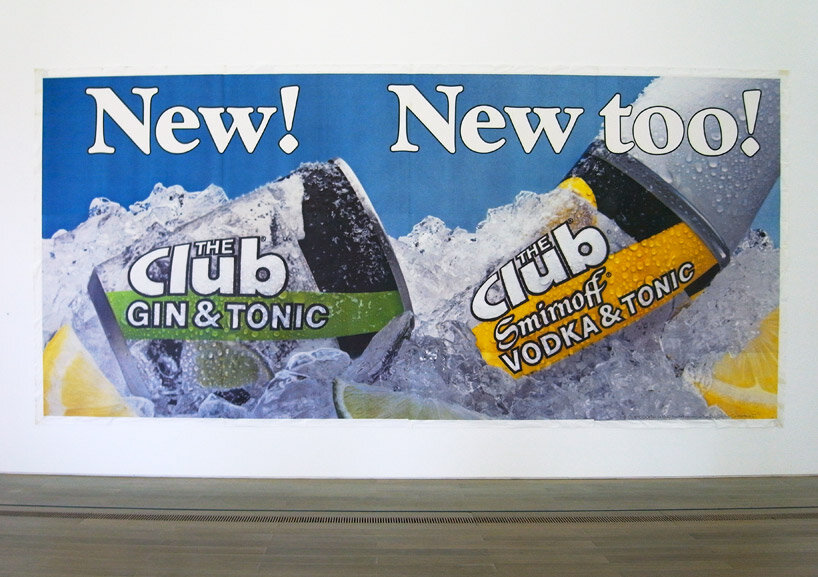 'New! new too! ', 1983, lithograph mounted on cotton
artwork © jeff koons, image by designboom
JK (continue): I definitely work with the dialogue of objects and our experience and our confrontation with the outside world and this type of metaphors. what interests me is the absolute luxury of an object quality to become "a better human being" and to take advantage of opportunities. we have to experience transcendence and enlightenment. it's the material I really play with.
I play trying to become myself, to become bigger and continue to the best of my understanding to communicate to people ways to open up to the world, to trust each other and to open up to a greater experience with the world .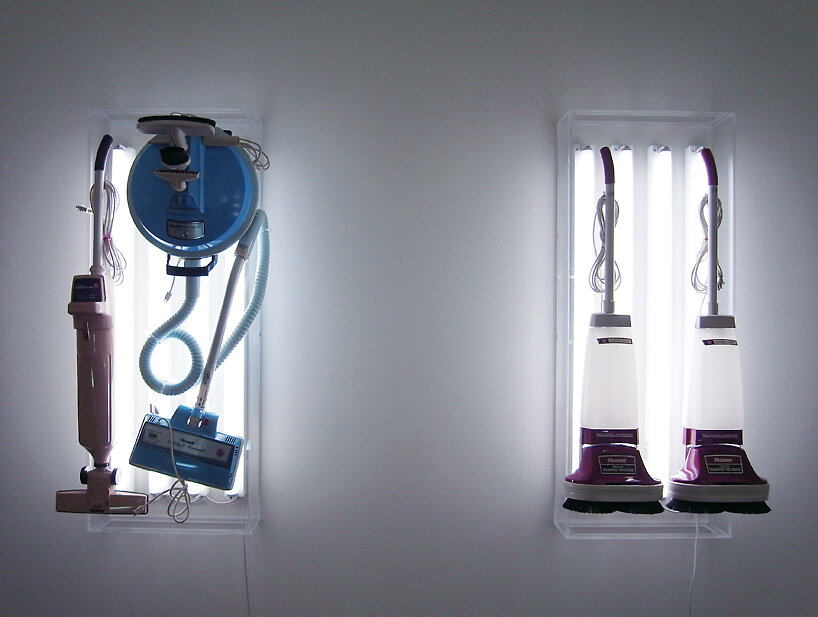 'new quick hoover broom, new celebrity hoover IV', 1980, and 'new luxury hoover shampoo polishers', 1980. vacuums, perspex and fluorescent lights
artwork © jeff koons, image by designboom
BD: another question about your early career – you once said that in your youth you experienced times when you had to return home to live with your parents again due to economic hardship. did this initial struggle play a role in your later art?
JK: I just wanted to participate. and just like i mentioned, very happy to be part of the bmw art car family, to be in dialogue with andy (warhol) and roy (lichtenstein) and robert (rauschenberg), jenny (holzer) and (alexander) calder… (laughs).
I always wanted to participate. I wanted to be a dialogue with dali and duchamp, picabia… that's where I find meaning. I never thought about the money. I wanted to participate. when I think, well, why have I had the success that I have had? I think I was into it.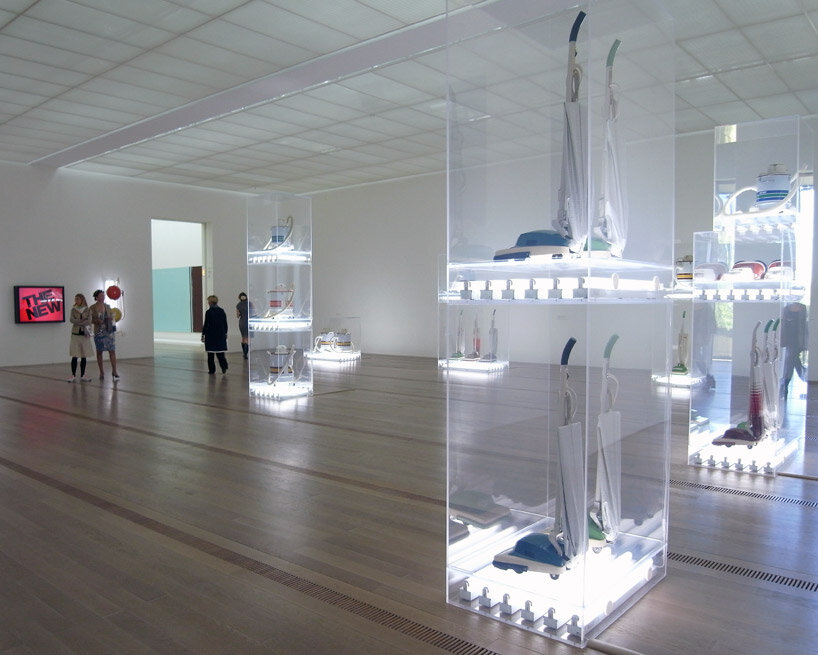 new Hoover convertible vacuum cleaners (1981-87), acrylic and fluorescent lights
Whitney Museum of American Art
artwork © jeff koons, image by designboom
Editor's Note: a series of vacuum cleaners suspended in plexiglass boxes is a commentary on the fetishistic appeal of consumer culture.
JK (continue): I mean, that's what I wanted to do and to the best of my ability. I was. I mean, it was okay, it's here and you can't give more than that. and I think if you do something that the community finds beneficial, they support you so that you can continue that effort. and so I was lucky to have people who supported me in the work. and if the way I've lived my life has been for work – that's what I find value in. I don't think you see any jewelry other than my wedding ring, because those are the values ​​that I place. there are things that I believe in development, but that is not believing in some kind of superficial excess.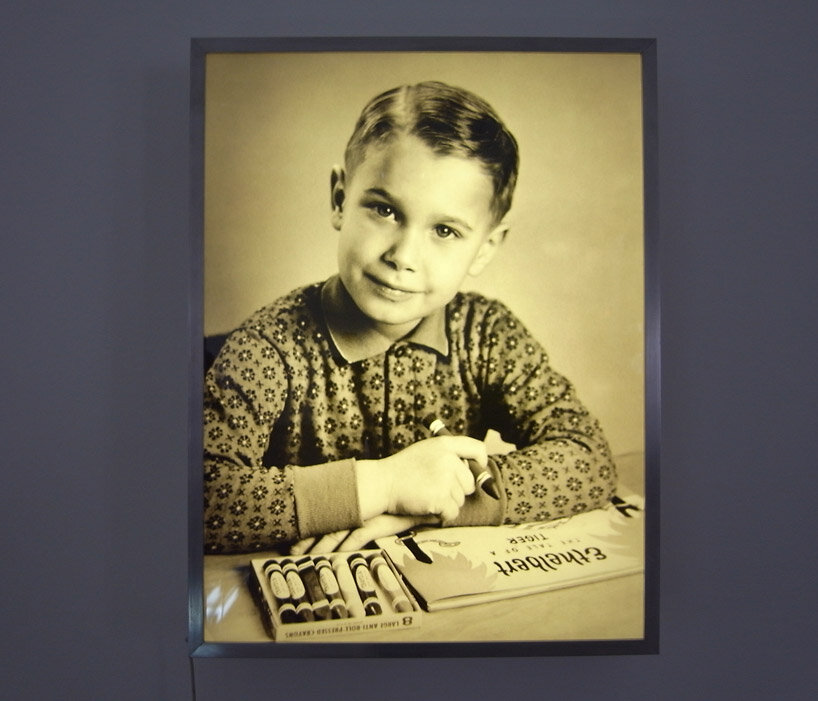 'the new jeff koons', 1980, duratrans and fluorescent light box
artwork © jeff koons, image by designboom
BD: what would be your advice to young artists?
JK: first to have self-confidence. when I first had my 'banality' show, which was a huge show in NYC, and I remember having this big hit, and a reporter asked me, you're not afraid leave you? I thought I had just had this great success, and I must already start to think about what it leaves me? 0021
Editor's Note: the word "banal" describes things that are not original, obvious and boring. "banality" works were unveiled in 1988, in which Jeff Koons used the type of fine materials and crafts that appeal to the tastes of the middle class. as part of his series "banality", he also created advertisements in art magazines, and like the exhibition itself, these were deliberately provocative, questioning the value of "high art".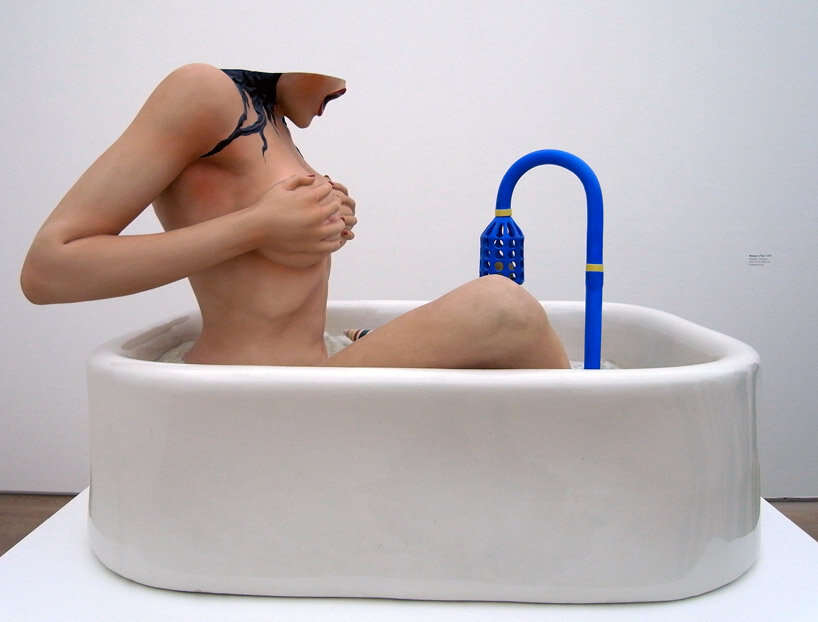 'woman in the bathtub', 1988 porcelain 60.3 x 91.4 x 68.6 cm
artwork © jeff koons, image by designboom
JK (continue): I thought, what are you doing? how could you do these things? the only thing you can do in life is to trust yourself first and learn to trust yourself.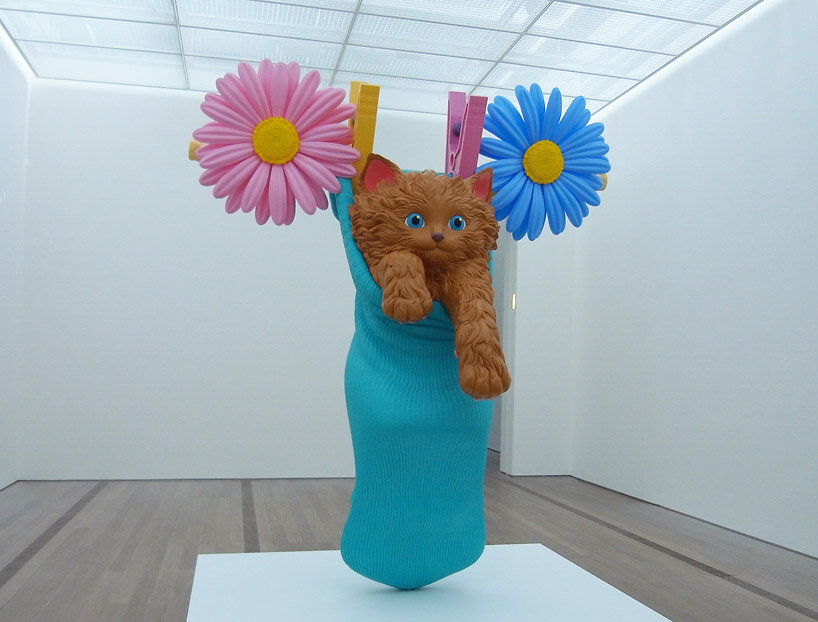 'cat on a clothesline', 1994-2001, polyethylene 312.4 x 279.4 x 127 cm
artwork © jeff koons, image by designboom
JK (continue): and once you have confidence in yourself, the last place you want to be is right here, inside yourself, and you want to go. so, once you have confidence in yourself, you follow your interests …
what could be happier than the things that interest you and that interest you? nothing could be happier than focusing on these interests. I mean "really" to focus on that. and if you do, it still connects you to that metaphysical place of time where you connect to a universal vocabulary.