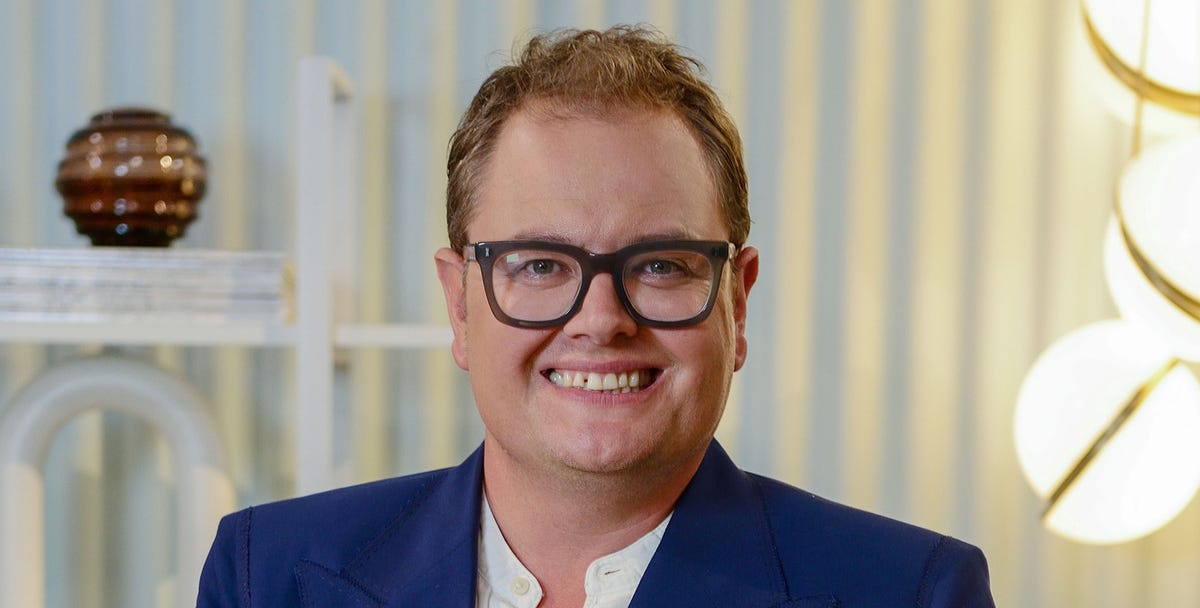 Alan Carr on the design feature he hates
BBC/Darlow Smithson Productions
Masters in Interior Design is back with a brand new home on BBC One, featuring 10 rising stars designers looking for their big break in the fast-paced world of commercial interior design.
Presenter Alan Carr and Chief Justice Michelle Ogundehin guide them through this process, but away from the TV screen, host Alan has been busy with his own design projects.
Here, he talks about his latest home renovations and what interior guru Michelle would think of his personal aesthetic.
As for his own design style, Alan describes it as "very eclectic", explaining, "I don't think Michelle would approve of my trinkets". I tend to veer towards chintz sometimes, I'm not even ironic with my porcelain figurines. I'm not very good at DIY but I'm a big fan of cushions. I may not be able to grout or rewire a piece, but I can plump up a cushion like no one else does. Oh, and light a fancy candle!
After saying he was going to try designing his own home's master bathroom at the end of the last series, Alan exclaims that his bathroom remodel was "a triumph".
A key feature was the tiling. "I opted for baby roses with an intricate pattern," he says. "The tiler who laid them kept asking me if he was laying them correctly because it was a specific pattern I wanted. I think the poor guy was squinting at the end of it, but I'm really happy with the result When I take a bath in my bath and look around, I really feel at home.
And when it comes to his next project, Alan sets his sights on his guest bedroom: "It has pine cabinets and paneling at one end and has a 70s sauna vibe to it, which doesn't is not beautiful."
We can't wait to see how it pans out, but there are some interior styles and trends the comedian won't be embracing any time soon. "I hate Pebble Dash," Alan proclaims. "It makes me sick to my stomach, just looking at it makes me shiver."
But if Alan could give viewers one decorating tip that anyone can do on any budget, it's this: "Be brave!" Go ahead, life is too short to be beige!
Discover the brand new series of Masters in Interior Design every Wednesday at 9pm on BBC One, or catch up on the series on BBC iPlayer.
To follow Beautiful house on Instagram.
---
This content is created and maintained by a third party, and uploaded to this page to help users provide their email addresses. You may be able to find more information about this and similar content on piano.io