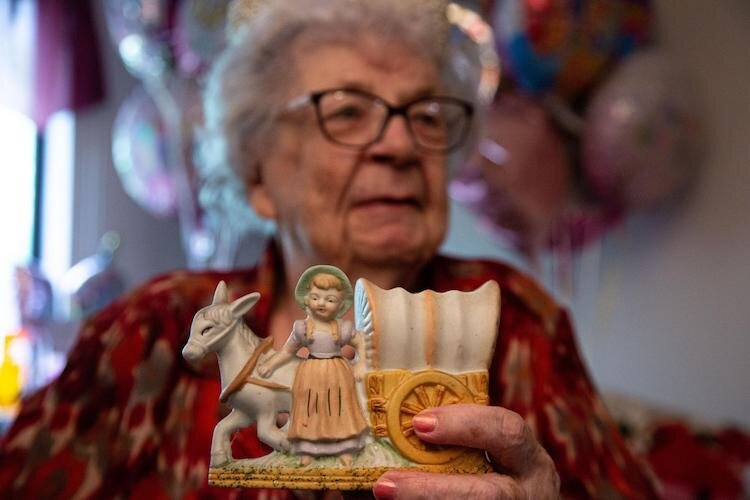 Blind date leads to 40-year marriage for Calhoun County centennial Elsie Wilson
Editor's Note: This story is part of Southwest Michigan Second Wave On the Ground Calhoun County series.
As part of our regular coverage of all things Battle Creek and Calhoun County, Over the next several weeks, Out on the Ground will be highlighting centennial stories on our website and social media platforms.
Elsie Wilson was born in the country in 1921 in Isabella County, near Mt. Pleasant, Michigan. She was the youngest and the only daughter of three siblings. Her mother was a housewife while her father worked for other people in town.
Growing up, she led a relatively carefree life riding her tricycle, playing Old Maid, and riding the neighbor's workhorses. She loved the water but couldn't swim, so she took boat trips whenever there was one. She also loved to attend the horse races at the Ionia Fair with her father every summer. Elsie attended the local one-room school where she graduated until grade 8. She started working as a babysitter, then looked after the disabled son of a local family.
She met her future husband Jack on a blind date arranged by a mutual friend. Jack was a transplant recipient from Tennessee who landed in Battle Creek due to his work in the food service at the VA Hospital. They had a long-distance relationship for nine months until he married her in 1952, when she was 32 years old. They had a small ceremony near Battle Creek with only three other people from the hospital in attendance.
Elsie Wilson was born in 1921.Although they did not have children, Elsie took care of a tidy little house on Champion Street. She eventually started working for the Battle Creek Sanitarium from where she eventually retired after 16 years working in the housekeeping department. Neither Jack nor Elsie drove, preferring bicycles to get around town. But they were able to get out and get around thanks to a friend who was happy to take them to the store and on a return trip to see his family in Mt. Pleasant or Jack's family in Tennessee. They were even able to take a trip to Arizona and Wyoming where they visited Yellowstone National Park. She has never taken a plane, but has taken the train a few times, which she really enjoyed.
Jack and Elsie also enjoyed going to the Lowell Showboat, a moored wooden steamboat that featured song and dance. After retiring, Elsie and Jack moved into the apartments at Bedford Manor when they were brand new. They were married for 40 happy years until Jack passed away in 1993. One thing she will always remember about Jack is that he surprised her with little gifts throughout the year. The first were two porcelain figurines he had given her before their marriage and which she still has in her apartment today.
Elsie continues to live at Bedford Manor as the oldest resident tenant in 36 years.
Some of Elsie's favorite hobbies were crochet, knitting, croquet, and cooking. When asked what her favorite food was, she replied: if it's good, I like to eat it! But the only thing she really liked to do was pies. Some of her favorite pies were coconut cream, apple, pecan butter, butterscotch and her favorite: custard. She says her biggest achievement was the pies she made, and she credits her crusts from scratch as the thing that sets her apart. She once envisioned opening a small pie shop where she would serve her delicious pies with coffee, but decided it was best to keep them for her family and friends.
Today Elsie enjoys attending the Adventist Church, watching her favorite shows, Hee Haw, Lawrence Welk, the news on TV and playing cards with friends. She also enjoys listening to old-fashioned country music as she doesn't understand new things today. Elsie loves birds too, and her favorite Cardinals can be found throughout her tidy little apartment.