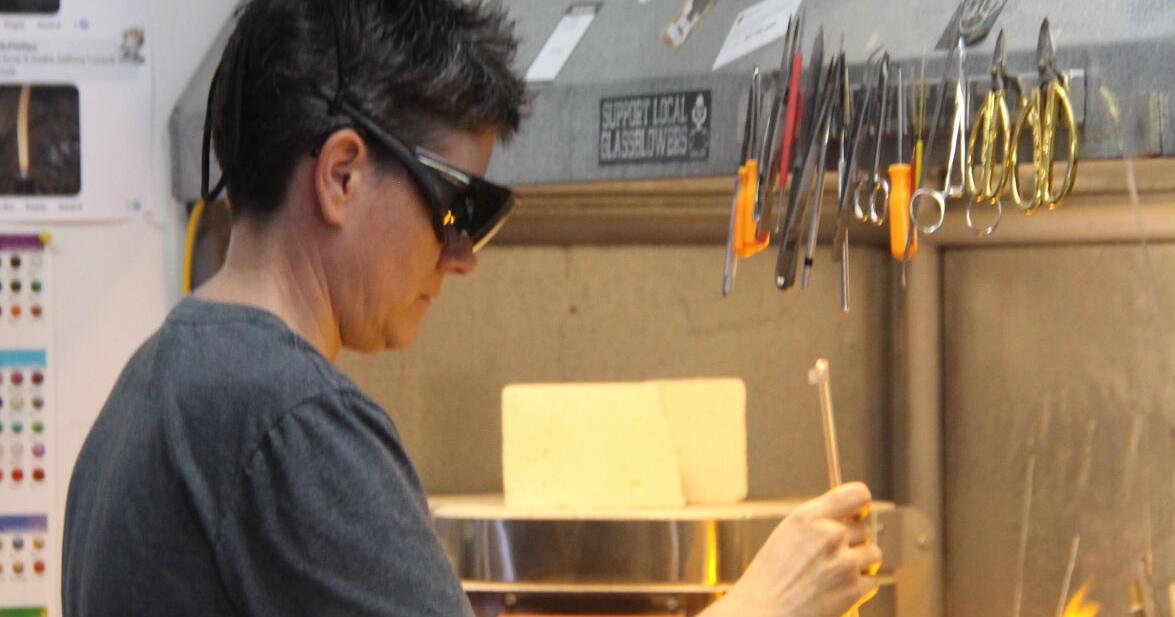 Breathtaking talent abounds on Open Studio Tour | Multimedia
Local artists offered a rare pic inside their studios during the Maturango Museum's annual open studio tour held on Saturday and Sunday.
With 23 participating artists, it was no small feat to go through all the featured studios over the weekend. But for those who toured the various sights, it was a remarkable experience.
Over the weekend, participating artists opened the doors to their homes and/or studios for the public to take a peek at what they are creating. Some artists were presented in their own environment while others were grouped together in selected studios, making it easier to get the job done.
Many artists are well known to the community, such as Lois Hinman (functional and sculptural pottery, ceramics and oil paintings), Skip Gorman (metal art), Howard Laire (silver jewelry and semi-precious stones, animals and abstract paintings), and As! from Minerals Unlimited (wire-wrapped semi-precious stone jewelry). Other artists were participating for the first time and certainly did not disappoint.
Choosing to spend all day Saturday touring the studios, the Daily Independent made four random stops and saw the works of Rossie Calvin, Robert Jennings, Kathleen Murray, Sally Adams, Birgit Gagliardi, Kathy Fields, Jacques Canot, Laura Arns and Greg Gilbert.
Each artist was one of a kind. Some, however, offered the eclectic, which made for a truly enjoyable experience.
The first stop was the Inyokern Chamber of Commerce where Rossie Calvin and Robert Jennings paired up for a pleasant display.
Calvin is the creator of specialty wreaths and gift baskets. She is also co-owner of Calvin's House of Dreams, which offers collectibles, vintage and antiques, and is located at 6553 W. Inyokern Road. She can be reached by calling 793-7276 or 793-1984.
Not to be missed are Calvin's Halloween wreaths which are not only a great addition to your party decorations, but his prices are a bargain for the quality of his work.
Calvin said she creates her pieces at affordable prices because anyone can afford them and enjoy her talents. See more of his work at his store Inyokern.
Jennings is the owner of ArJay's Creations and an up-and-coming artist. He creates metal artwork, custom signs, fire pits, windmills, split letter monograms and more.
Jennings offers a range of metal Petroglyph figurines as well as much more. It's not just what he creates, it's the way he uses different materials in his pieces that make them so unique.
Creating his pieces over the past two years, Jennings said he carefully selected his pieces for the Open Studio Tour.
His latest creations include shadow boxes depicting safari animals.
"That's what's tripping my hammer right now. Next, I want to include local animals found in the desert in my pieces," Jennings said.
Jennings is located at 6552 Inyokern Road, and he can be found reviving the antique store, Lupe's Attic. Stay tuned for an official grand opening, but his plays can also be viewed on his Facebook page or by calling 377-7313. Ask him about his F Bomb can openers for an affordable stocking stuffer.
A stone's throw away was Kathleen Murray's studio, the Forest Kat Studio, which she opened up to four other artists who all offered different and unique pieces. She specializes in the expressive realism of watercolor and acrylic paintings.
Actively painting since 2006, Murray said she started making art at a young age and returned to it after retirement.
"I've always wanted to live in an old church," Murray said of his ornate stained glass studio/home. "It's very peaceful. It's very me."
Located inside a beautiful old church, the renovated studio doubles as her home where she exhibits and sells her pieces at 6525 Sunset Ave., Inyokern. She can be reached by dialing 719-291-5243. See his works on forestkatstudio.com.
Joining Murray was Jacques Canot of Roadrunner Wood Art. He specializes in wooden sculptures and lighting. He can be reached by dialing 793-7800.
Canot also uses its own petroglyph designs that look like the real deal. His walnut and driftwood pieces are stunning, especially his driftwood mirror he had on display.
He has been creating his pieces for six years.
Kathy Fields and Birgit Gagliardi of Sunna Ceramics were also found in the Inyokern studio. Fields specializes in functional and sculptural ceramics, and Gagliardi specializes in ceramic works of art like birdhouses, castles, and pumpkins. Fields can be reached by calling 408-9747 and Gagliardi by calling 661-343-2015.
Working in collaboration, Fields and Gagliardi nurture each other while creating their ceramic pieces.
Fields described the process of making his pieces, proving that his artistry is an act of love.
"All ceramics is a long process. We're having a lot of fun," Fields said.
Popular are Gagliardi's gnomes and villages which are reasonably priced and sell out quickly.
Finally, Sally Adams from Iron Buzzard Metalwerkes presented her cut metal sculptures and copper jewelry. She can be reached by dialing 977-6786.
Adams has been creating his pieces for over 10 years. It is both his passion and his hobby. She leans towards petroglyphs and Western jewelry.
Back in Ridgecrest, the next stop was to see a live demonstration by glass artist Laura Arns at Arson Studios. Its torch-worked glass beads, sculptures, jewelry and more are visibly gorgeous. Its glass marbles leave the art lover scratching their heads, wondering how much depth and precision can be found in a single piece.
Arns has been creating its glass pieces for 15 years. She said she couldn't keep her glass candy canes in stock with the holidays approaching.
"I still regularly take lessons from some of the master artists across the country," Arns said.
See his work on arson-studios.com or his Facebook page. She can be contacted by email at [email protected]
A final stop before calling it a day was at the home of Greg Gilbert who uses his residence as his working studio.
Upon entering, one is immediately made aware of the talent that lives within the four walls of this house. His larger-than-life pop art collage pieces featuring old comic books and life-size Western photographs are splashed onto nearly every wall in his home.
Gilbert uses layers of color when creating his collages, which he says is a labor of love.
"I call it contemporary, vintage, Hollywood pop art," Gilbert said when describing her work which, well, you have to see it to believe it.
Gilbert can be reached by dialing 375-5547.
It is with great regret that we were unable to get all the participating artists to participate, including Eileen Shibley (abstract, floral, landscape and "wild women" watercolors), Nancy Crawford (watercolors and oil paintings) , Marcela Everitt (oil and acrylic paints), Janice Allen (oil, pencil, charcoal and watercolor paintings of realistic animals and landscapes), Debra Newton (oil, watercolor and pastel), Aubrey Phillips (wood carvings, walking and talking sticks), Mike Mumford (forged paintings – steel artworks including shadow sculptures and decorative objects), Larry Sawyer (work decorative and functional art in wood, metal and etched glass), Debbie Benson (ceramic sculptures and functional objects, found objects in mixed media), Nichole Larson (oil paintings of landscapes) and Jerry Bradley (stone sculptures, wood, metal and Corian).
It just gives us more to look forward to next year's Open Studio Tour.
A sample of all the artists' pieces will continue to be exhibited at the Maturano Museum in the Coso room. The museum is open daily from 10 a.m. to 5 p.m. Additionally, a retrospective exhibit featuring posters from the past 18 years of Open Studio Tours is also featured for a glimpse into the vast talent of past artists.
With the holidays approaching, it's worth taking a look at the talent to be found in the Indian Wells Valley before spending your Christmas dollars on anything other than handmade creations that are out of this world.
For more information, call the Maturango Museum at 375-6900.