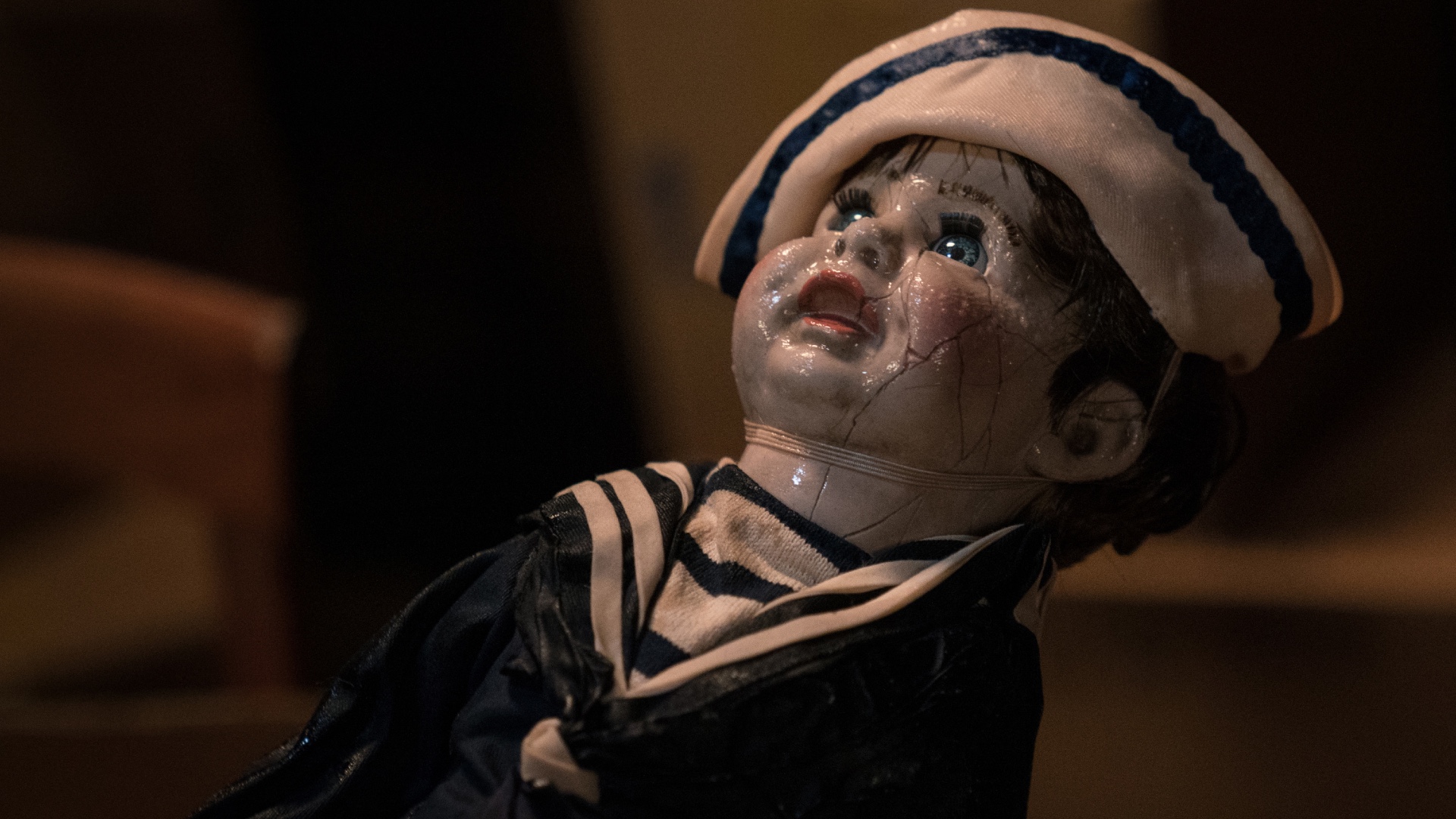 Evil Season 2 finally indulges in creepy doll horror
The presence of two dolls during a ritual seems to add power to the procedure. The sequence reminded me of the movie The Ninth Gate, where the real directions for a real satanic ceremony are divided between three books, and knowing how to decipher the figure of Lucifer. Edward (Tim Matheson) is playing a dangerous game with Sheryl. For himself, of course, she gets a little happy towards the end. Edward thinks he can teach a Pavlovian dog new tricks, but Sheryl's bark has more bite than it can chew. He leaves a lovely farewell gift – a family heirloom that also serves as an emblem on the Tablet of Seals. We don't yet know the meaning of the cryptic scroll, but it looks like a pre-digital Ancestry.com for the appearance of demons.
The generational specimen, kept in a mason jar, interacts very well with the two vortices.
"D Is for Doll" opens with Sister Andrea (Andrea Martin) pouring aggression into passive aggressive power plays. It's for the trouble when the good sister distributes the sugar cubes. She and Leland (Michael Emerson) have performed mercilessly duets since their first knife spin, and are highlights in all episodes. Leland tries to progress with Monsignor Matthew Korecki (Boris McGiver), desperately drawing his attention between his hell cat job and the intruder that stands in his way. Leland pressures the Bishop to give him a full-time position at the church, overseeing the recently possessed and offering advice and consolation for their continued contrition. Sister Andrea is such a force in the room that she is basically chased away by the most senior official. It's a perfect, comical, tense, and conspiratorial start.
Sister Andrea's scenes with David Acosta (Mike Colter) are no less spectacular, though much more intimate. The two characters are truly in a world apart, separated even from their peers by a true vocation and a true mission, and the actors who embody them leave an emotional restraint at the door. Each has been more vulnerable, but together they are able to examine the root cause and determine personal responsibility. Martin and Colter allow doubts, recriminations, and mistrust to reign fully in their immediate awareness, but never once lose perspective or misinterpret. They say twice as much because they make the ideas they suppress apparent. In a way, it's as fun as watching Kristen in the wine barrel during "S Is for Silence".
The other little-known fun moment comes from a highly unsuspected character, Kristen's therapist, Dr. Kurt Boggs (Kurt Fuller). He decided to follow the team in their latest investigation. It's part of his finder's fee, he brought the matter to their attention and is indebted to being criticized by Kristen's paranoid outburst. He wants to write a book about it, he tells Ben as the Magnificent listens to the walls crack. Is he annoying? Yeah, but it's worth it for the way Boggs says 'no' after Ben asks if David approves of his kibbitzing.
The countdown to ordination passes and David plays on the field. But he's not the type to like ex-priests who think the Catholic Church looks too much like the Mafia. David no longer has a problem with Gregory Biel, the lay expert called in to exterminate the demonic infestation, but who is truly there for comic relief. His performance is reminiscent of both The Stupendous Yappi (Jaap Broeker) by X files, and Mr. Bookman, the library detective of Seinfeld. If Leland has a say in the investigative team's staff, Gregory is the obvious choice to replace Kristen. It is written in his book, "The Gospel of Gregory".