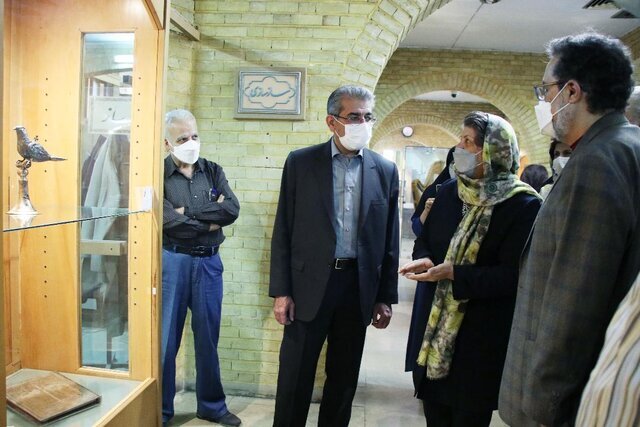 Iranian-Armenian craftsmanship pieces on display in Tehran
TEHRAN – An exhibition presenting some 130 pieces of goldsmith's work made by Iranian-Armenian silversmiths opened in Tehran on Tuesday.
Organized by the Traditional Arts Research Group of the Cultural Heritage and Tourism Research Institute, in collaboration with the Arch Bishop Ardak Manoukian Museum, the exhibition features works by several Armenian masters of craftsmanship from the money, including Herach Megerdoun, Sarou Megerdoun, Armin Vartin and Simon Malekian, ISNA reported on Wednesday.
Silverware, pictures and decorative objects engraved using various techniques, a copy of the Bible with a silver engraving on the cover, engraved silver cups and instruments used in religious ceremonies are among the works of art exhibited.
The exhibition will run until October 25 at the Ministry of Cultural Heritage, Tourism and Handicrafts.
The Iranians have been skilled metallurgists since the Achaemenid period (559-330 BC).
According to the Encyclopedia Britannica, gold and silver statuettes are known as early as the 5th century BC, and silver and gold vessels from this era take the form of flasks, conical cups, vases, and rhyta ).
The Oxus treasure in the British Museum and the Susa find in the Louvre in Paris are good examples of such work. During the Parthian period (247 BC)
The zenith of ancient Iranian ironwork, however, was reached during the Sassanid period (224-651), when artisans achieved a wide variety of shapes, decorations, and techniques. Drinking vessels (stem cups and cups with handles), ewers, oval dishes, trays and bowls are the dominant shapes; hunting scenes, drinking scenes and animals are depicted in high relief. The designs were cut from solid silver or made separately in sheets, then welded to the container. From this time, cloisonne enamel was used for jewelry.
ABU / AFM