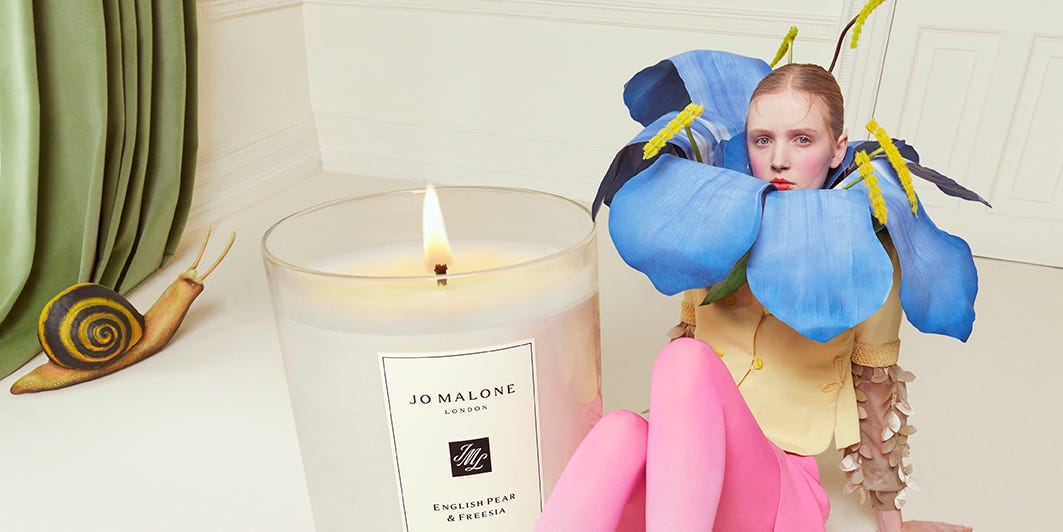 Jo Malone London launches its first collection of home accessories
Flower-headed fairies wrapped around candles, a punk-haired zebra housing a diffuser and a blue sandwich tray – welcome to Jo Malone London's very first collection of home accessories.
The quintessentially British perfume brand invites you on a surprisingly surreal journey "Up The Garden Path", in collaboration with set designer Shona Heath.
Inspired by the magic of the traditional English country garden (which has long influenced Jo Malone London fragrances), the charming assortment of limited edition candle and diffuser accessories will immerse you in an avant-garde fairytale world, where flower people and animals frolic away from human view.
In creating the collection, Heath took inspiration from his favorite kitsch porcelain figurines, which his mother and father used to collect, as well as weird animals and funny characters often found in stories for children.
"I've always been a huge fan of flower fairies, that's one of the first things that I think got my creative brain spinning when I was about eight," reveals Heath. "I got a little flower fairy book in a pass game – it was Flower fairies by Cicely Mary Barker. I remember the road trip on the way home from the party. It was dark and every time a lamppost passed, I turned the page. I remember feeling, well, a little sick – but I was mesmerized by it.
These floral figures from her childhood, alongside the spookier half-flower half-human figures depicted in Françoise Pinet's work, were at the forefront of her mind when Jo Malone London's creative director Wandjina Glasheen-Brown told her. asked if she would like some ceramics for the brand.
"Wandjina and I worked together on a lot of different sets," says Heath. "I think we share a love for very similar textures and references, stories and artists. We had always talked about doing something like this.
In fact, longtime Jo Malone London fans may have already encountered some of Heath's work. She worked on creative projects for the company for almost 10 years and is known for designing some of the graphic sets for her eye-catching advertising campaigns.
Heath – who is also known for his surreal set designs for award-winning photographer Tim Walker – even wrote his own short fairy tale, On the way to the garden, to give life to the new Jo Malone London range.
"It's based on two characters, Mr D'Vingles and Lily Cordelia Garget. He's kinda stuffy and she's that stilted girl. They walk down the garden path together, and he smells of roses, falls on his stomach and something is overwhelming him, "says Heath.
"[They] transform into flower people, with petals for the hair and stems for the arms and legs. It's a little bit psychedelic and shouldn't be taken seriously. But we loved this idea of ​​cross-pollinating flowers and nature with humans to create these surreal objects.
Each piece in the collection represents a character or scenario from that story, also drawing inspiration from Jo Malone London's scents that evoke the classic English country garden, including Honeysuckle & Davana, Wild bluebell and Orange Blossom. Heath's favorite is the classic bestseller Lime Basil & Mandarin.
The characters then came to life in the collection's campaign, when the beauty brand and set designer collaborated with photographer Tim Gutt, giving the models giant flower heads and puppet features.
As for the ceramics themselves, they were all made in the UK by the staffordshire family pottery business, 1882 Ltd. If you notice that the Color Collection's brush isn't perfect, it's on purpose: Heath hand-painted the original casts to embrace the subtle imperfections of the original porcelain figurines.
"There is something about hand painted porcelain that is often a bit 'disjointed', like the eyebrows aren't on the browbones or the shoe buckle is a little puffy and I've always really liked it. it. I wanted to tweak that a bit and actually splashed it with a toothbrush and some of the errors where I removed the color but didn't completely disappear ended up being part of the design.
As such, the complete collection is a kaleidoscope of color and creativity that will make the perfect centerpiece for your home this summer. From the punk-themed zebra diffuser to the gorgeous flower girl candle holder, every piece is a sure-fire conversation piece.
"It was really important to me that they function as beautiful objects with or without the products, because I think that gives you more reasons to want them," reveals Heath. "So the flower lady's candle holder is actually a little trinket box; the candle lids have faces on the inside when you take them off, and I envisioned using the candle tray for your earrings and accessories as well.
"I would love if they were hanging around and being a really funny thing that a hundred years from now someone would be thinking, 'What is this?' I am certainly not obsessed with good taste. For me, it's just a series of lost opportunities for people to live with colors and patterns. If someone told me that I have really good taste, I think they would be quite offended.
Shop the collection
The petal head
Petal Head Candle Holder, £ 392 BUY NOW
A porcelain flower girl doll hugs your favorite Jo Malone London candle.
"Sometimes the words for what I need to do will spark an idea. For example, a candle holder. What's in a candle? And, wouldn't it be really nice if something hugged the candle?" Heath says about the creation of this unique piece. "Strangely enough, when I made my first ceramic piece at school, it was a girl reading a book on her stomach in a tutu. I am always amazed at how far the ideas rooted in my childhood reach back to the top. "
The less spotted zebra

Small Spot Zebra Diffuser, £ 384, BUY NOW
Make a statement with this zebra-shaped diffuser, completed with a striped Mohican hairstyle.
"Recumbent horses are actually quite rare to see," says Heath. And when you see one, there are always daisies, hyacinths and buttercups around them – I love the contrast between these really strong beasts and the flowers, "says Heath. "It became a zebra when I was trying to figure out how to include the diffuser sticks in the design. I wanted them to be part of the horse's mane, like a punk hairstyle.
The daisy cheek cover

Daisy Cheeks candle cover, £ 98, BUY NOW
Inspired by the moon and sprinkled with pink blossoms, this daisy cheek cover is a sweet addition to any burner.
The blue sandwich
Duo Sandwich Platter Blue, £ 392 BUY NOW
"It's one of my favorite pieces – a candle tray that's actually a blue sandwich," says Heath. "We even made a blue sandwich by painting bread blue and sticking fake flowers on it to get the idea. It was also sort of winking at Man Ray's blue baguette. really liked the idea of ​​a blue sourdough sandwich, as a modern version. So, I thought, how do I make it look like a sandwich? Oh, the rose would look like ham. And the leaves would look like lettuce. So it's like a flower sandwich. "
The pink cover
Pink cover upside down, £ 220, BUY NOW
Are candle lids prettier than this English rose design? There is also the added touch of a hidden face staring at you when you light your candle.
The 'Up The Garden Path' collection is available on jomalone.fr and Jo Malone stores in London for a limited time now.
This content is created and maintained by a third party, and imported to this page to help users provide their email addresses. You may be able to find more information about this and other similar content on piano.io