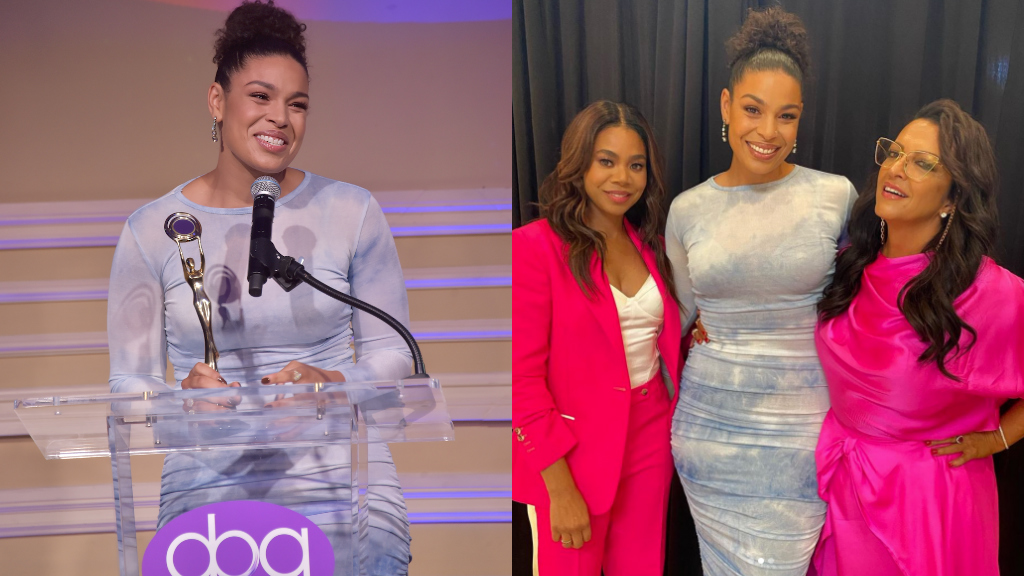 Jordin Sparks lights up room at Daytime Beauty Awards
Jordin Sparks onstage / Jordin Behind the Scenes with Regina Hall & Tool of the Year 'Beautyblender' honors Rea Ann Silva
After nearly two years of being stuck inside with no social events to attend due to the pandemic, the Daytime Beauty Awards have finally returned to the Taglyan for their 3rd annual ceremony. The audience, made up of VIPs, celebrities and notable professionals from the beauty and medical industry, were relieved to once again celebrate the science behind beauty, health and wellness.
Jordin Sparks joined the presenter lineup which included Regina Hall, Cheryl Hines, Kurt Rambis, Halston Sage and more.
The American Idol star and Grammy-nominated singer was all smiles as she took the stage, accepting outstanding health achievements on behalf of Paula Abdul.
"Like most of you, I haven't been out much. But this award is so important because it deals with health. And as we all know, health is your most precious possession. This woman that we are about to honor is a dear female friend, a super talented and fit artist, " Jordin Sparks said on stage.
Paula not being present at the awards ceremony, Sparks added: "As we all know these are tough times. Paula wanted to be here today, but unfortunately she couldn't join us in person. I accept this award on her behalf."
Founded by Michele Elyzabeth, the awards show recognizes the science behind beauty and shines a spotlight on health and wellness professionals in the fields of dentistry, medicine, health and fitness, aesthetics, skin care, color and style, cannabis, beauty innovation and more.
Danielle Lauder, actress, entrepreneur and great-granddaughter of Estée Lauder, served as this year's Daytime Beauty Awards ambassador.
The 2021 winners included: Paula Abdul (Outstanding Health Achievement), Dr Moncef Slaoui, Former Chief Scientist of the U.S. Government's Covid Vaccine Development Effort (Special Tribute Award), Chris Appleton (Outstanding Achievement in form), Gary Archer (Outstanding Achievement in Dentistry), Dr Stafford Broumand (Outstanding Achievement in Aesthetics), Dr Andrew Caster (Outstanding Achievement in Medicine), Tracey Cunningham (Outstanding Achievement in Color and Style), Michaeline DeJoria for John Paul Mitchell Systems (Brand of the Year), Nancy Duitch and Nicole Kidman for Sera Labs (The Breakthrough Award), Gary Trudell for Custom Comfort Mattress (The Sleeping Beauty Award), Rea Ann Silva for Beautyblender (Tool of the Year), Erica Skynn for Derm7 (The Innovation Award) and Imelda Walavalkar & Tracy Anderson (The Zen Award for Pure Beauty).
The 2021 presenters included: Jonathan Berlent, Tommy Chong, Regina Hall, Richard Halpern as Austin Powers, Chelsea Harris, Cheryl Hines, Karen & William Lauder, Kurt Rambis, Cesar Deleon Ramirez, Ogema Larry Romanelli, Melissa Rue, Halston Sage, Jordin Sparks , Kitty-Blu & Billy Appleton, and Dr. Jeffrey Tucker.
OmegaXL from Great HealthWorks was the title sponsor of the event.
The award statuette, better known as "Holly", was designed by Christopher Guy.
This year's event included a silent auction and cocktails followed by lunch and the awards ceremony. The Daytime Beauty Awards benefit the Helen Woodward Animal Center for their efforts 24/7, 365 days a year, saving animals from all kinds of natural disasters, providing healthcare and homes forever.
@hollywoodbeautyawards on IG