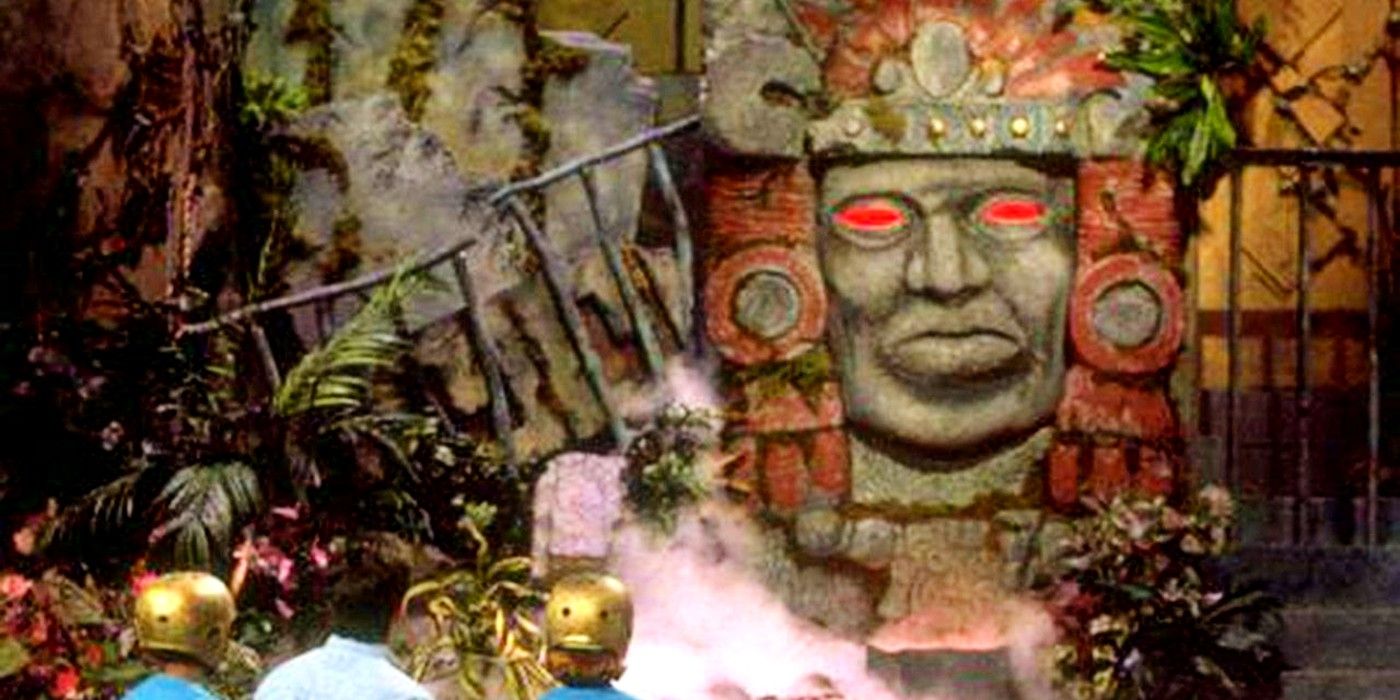 Legends of the Hidden Temple reboot brings back the original Olmec voice actor
Dee Bradley Baker will return to voice Olmec for the Legends of the Hidden Temple reboot. The CW reboot will be aimed at adults.
The Legends of the Hidden Temple reboot will air on The CW with Dee Bradley Baker returning to voice Olmec. The original series aired on Nickelodeon as one of its many game shows for kids. Even though the series only lasted three seasons from 1993 to 1995, it became a hit among children who yearned to participate in the game show and watched the reruns that followed in fits of nostalgia.
Legends of the Hidden Temple was a competitive show based on agility. There were eight competitors divided into five teams of two titled Purple Parrots, Blue Barracudas, Orange Iguanas, Red Jaguars, Silver Snakes and Green Monkeys. Contestants fought tooth and nail to get to the Temple of Olmec, which was the ultimate and final challenge of the game show. The team that reached the end would enter the Temple of Olmec and complete their series of obstacle courses to retrieve the lost treasure.
Related: The Unmade Prometheus & Bob Live-Action Movie Explained
Deadline confirms that the original Olmec, Baker will return for the Legends of the Hidden Temple to restart. Olmec was the sensitive Mayan head sculpture who gave contestants puzzles, explained challenges, and asked questions when a tie-breaking round was in order. Olmec was not only an important host figure on the show, but a vital part of the set. After all, the hidden temple is actually called the Temple of Olmec. According to reboot executive producer Scott A. Stone, Baker was excited to return as Olmec.
"When we asked Dee Bradley Baker to come back as the one and only Olmec – our Giant Talking Stone Head, and he said, 'Let's Rock', that's all I had to hear… the Olmecs live. "
Baker may return as Olmec, but several other aspects of the game show are changing. While the original Legends of the Hidden Temple was aimed at children, the reboot will feature adult contestants – the generation who watched the series fervently in the '90s as children. Additionally, the series' original host Kirk Frogg will not be returning for the reboot. Rather, Cristela Alonzo will host the CW reboot.
While many aspects of Legends of the HIdden temple are updated for the CW reboot, it's good that Olmec is returning to its original form. Olmec is an important part of the series and one of its most memorable aspects is his voice. Fans who watched the series in the '90s still remember the cadence of her vocals to this day. With Olmec's return, it's clear that the same challenges and obstacles that plagued competitors in front of and inside the Temple of Olmec will also be present in the reboot. It will surely excite fans to know that Baker is returning to voice the almighty Olmec.
Next: Rugrats Reboot Cast & Character Guide: Every Returning Voice Actor
Source: deadline
Ike Barinholtz Interview: Chicago Party Aunt
About the Author