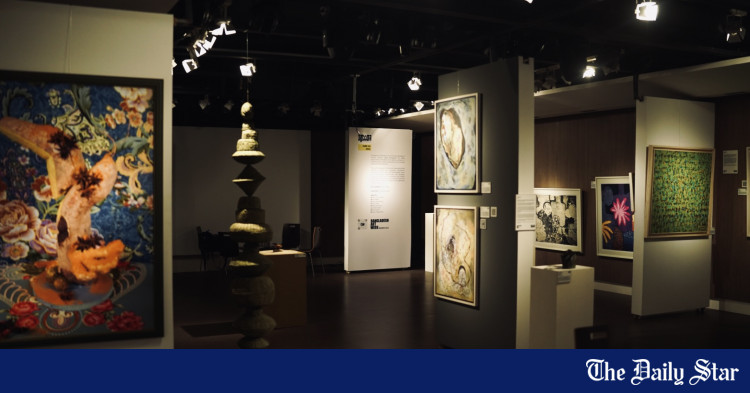 'Ora Egaro Jon:' Augmented Reality-Infused Art Exhibition at Dhaka Gallery
An inventive blend of various creative showcases, the third edition of Ora Egaro Jon, presented by Bangladesh Art Week, a voice of Bangladesh's art industry that provides a platform for emerging and established artists to showcase their works in an international context, bringing together internationally renowned artists and established Bangladeshi artists alongside young guest artists.
Bangladesh Art Week presented ARE (Augmented Reality Exhibition), a portable generative art collection showcasing the work of 11 female artists at Dhaka Gallery, a concept that brings together some of the best generative art in South Asia, providing an artistic experience uniquely immersive.
For all the latest news, follow the Daily Star's Google News channel.
Distinguished guests at the event, including His Excellency Amir Farid Abu Hasan, Deputy High Commissioner of Malaysia to Bangladesh, enjoyed the technology showcasing the art.
"According to Forbes, augmented reality will be one of the most transformative technology trends in the next five years and we aim to be the pioneers in Bangladesh. We also hope to hold events like this every year," said curator Niharika Momtaz. of the event and also the founder of Bangladesh Art Week.
A total of 31 works of art were on display in the gallery, representing the burgeoning socially conscious community of Bangladeshi artists. From a metal sculpture by Nasima Haque Mitu that combines a metaphorical connection between humans and plants to a painting of a utopian prayer rug by Dinar Sultana Putul that displays painterly arabesque charm, the event encompassed sculpture, photography, mixed media construction and sculptural furniture. and animated presentations.
What this exhibition has skillfully presented are the emotions of all the women who are part of it, such as the way Lala Rukh Selim, an eminent sculptor and professor in the Department of Sculpture at the University of Dhaka, emphasizes the psyche, essence, inner workings and meaning of women in his artistic expression.
"My mother passed away with COVID-19. Since then I have felt how nothing lasts in this life. So with my work I show the vulnerability, the struggle that women face in everyday life and how this transcendence to the female condition seeks balance in society," said Lala Rukh Selim when asked what her work meant.
Alongside established artists, the exhibition also featured budding artists like Afroza Hossain Sara; a freelance concept animator puts her drawing and painting skills to use in making animated films. Regarding her work process, Sara said, "I like to draw all my concepts first-hand to get the right feel, and then I use software to bring them into animated form. Even though hand-drawing can be time consuming, I think it adds more authentic feel to my overall process."
An online timed auction was held on the Bangladesh Art Week Facebook page and website, where the highest bidders purchased the artworks displayed at the exhibition. The exhibition took place from June 24 to 25 at the premises of the Dhaka Gallery.
Essential:
Participating artists: Shireen Jawad – Singer / Musician, Lala Rukh Selim – Sculptor, Habiba Nowrosh – Photographer, Dinar Sultana Putul – soft sculpture, Shuborna Morshaed – Print Maker, Fareha Zeba – Print Maker, Afroza Hossain Sara – Animator, Nasima Haque Mitu – Sculptor, Asma Akber – Visual artist, Nabila Nawrin – Architect and furniture designer, Promiti Hossain – Visual artist
Bangladesh Art Week Facebook page: https://www.facebook.com/bangladeshartweek
Website: https://www.bangladeshartweek.com/
Gallery Address Dhaka: Banani Road 12, Block E, House Number 44, Dhaka.