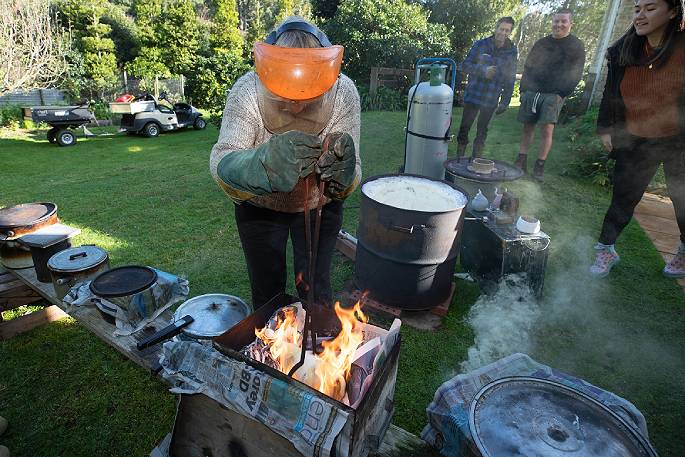 SunLive – Dorothy does it all at Oropi!
As a child growing up on a dairy farm in Waikato, she pressed clay into the shapes of horses. Seven decades later, Oropi artist Dorothy Armstrong is still creating ceramic animals.
"I was about seven years old when I discovered pottery," says Dorothy. "I really wanted a horse, so I made it out of clay. As I got older, I took evening classes and workshops. I've always loved making animals and birds.
Dorothy's work varies in size, from tiny porcelain fantails to large outdoor sculptures.
"I was part of a co-op shop called Pyromania in Wharf St for many years. But now I've started putting some coins in the Historic Village Pot House. I also supply a few other galleries across the country.
Cow figurines
Dorothy also takes orders to immortalize pets as well as cow and calf figurines.
"Dairy NZ saw my work in a store in Hamilton about 20 years ago and approached me. They distribute the figurines at conferences or use them as parting gifts. If I couldn't make a cow now, there would be something wrong. I've done so many over the years.
Dorothy uses the ancient Japanese Raku technique to fire her creations. The ceramic is taken out of the kiln and placed in a combustible material, such as sawdust or newspaper, to create colors in the glaze.
"I'm lucky to live in a rural area," says Dorothy. "I wouldn't be able to make this shot if I lived in town with all the smoke and flames."
His 8.5 acre property has approximately 80 avocado and 20 lemon trees as well as a wide range of fruit trees.
Dorothy Armstrong was introduced to clay at the age of seven, today she is renowned for her pieces of animal pottery.
Limoncello
"I love making limoncello and marmalade," says Dorothy. "I like to bottle all kinds of things – raspberries, peaches, apples, persimmons, feijoa; then we are in citrus fruits, then strawberries.
"You notice that the seasons change here. It's lovely. I play the fiddle and love home cooking, pottery, spinning – all the things that country people do. i just got my 79e birthday but I'm pretty busy and still fit enough to do a lot in the garden and in the summer I swim.
Dorothy leads a pottery group on Friday mornings. "I have to make a lot big enough for the six cubic foot oven, so it's good to fill it with other people's work.
Creative outlet
"It's great to see a lot of young people so enthusiastic. It's a great creative outlet because there are so many ways to fire pottery – in a pit, a raku fire or a wood fire. We can use sawdust wood, salt glaze, or even horsehair for different effects. It's not perfect and I like it.
Although she's been a popular artist for years, Dorothy still loves knowing that others appreciate her work.
"When I see someone take my work from a store, that feeling is worth more than the money. It's fantastic to walk into someone's house and see one of my ceramics and think, 'C It's mine! It gives you a chill.