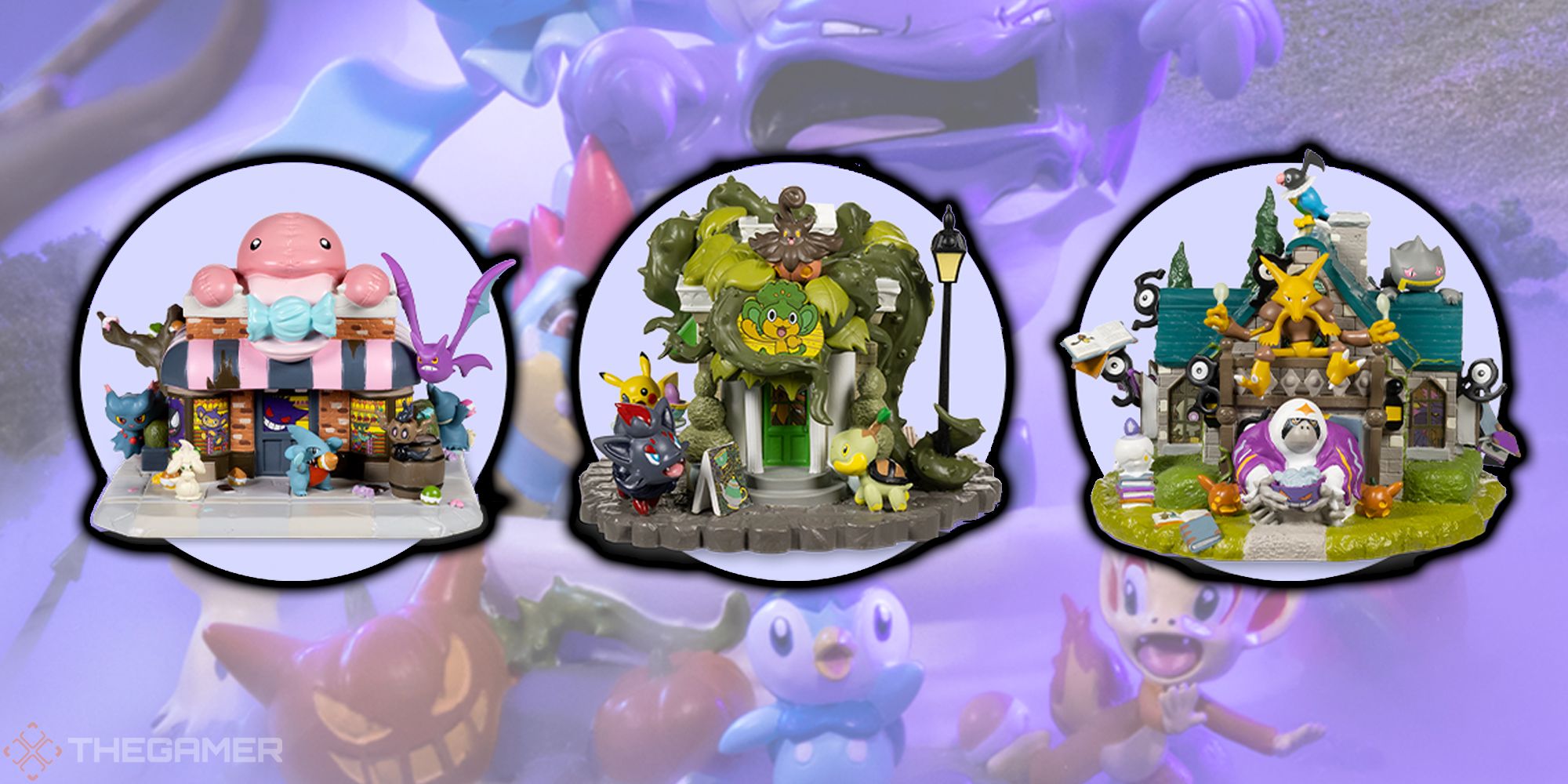 The Pokemon Haunted Village collection is a brilliant display of seasonal nostalgia
Don't tell anyone, but I'll surprise my wife and son with a spooky Pokemon themed surprise that will adorn our dining room bar. It's a charming village miniature that will essentially be a Halloween version of the Christmas village that I created each November to kick off the Thanksgiving and Christmas seasons.
I'm an absolute fan of those Christmas villages that take me back to my childhood when I used to help my grandma and grandpa set them up on their shelf and then dreamily bask in the glow of dimly lit houses and lanterns that lit up the aisles filled with porcelain and ceramic miniatures, before falling asleep and being carried to bed. It really is a feeling of nostalgia that I hope to instill in my son when he is older, which I will do as I nurture my own childhood by adding a little village for the Halloween season.
Related: What Are V-UNION Pokemon Cards & How Do They Work?My plan was to start the Halloween Village with the Department 56 collection including Dia de los Muertos themed buildings and props, as we celebrate this holiday in our family. My order just shipped which will give me plenty of time to set it up and enjoy it during the spooky season. However, my plans might change a bit with the release of the Haunted Pokemon Village Collection.
It's rare that I want to talk about a product before I even own it, but the Haunted Pokemon Village collection really turns me on. The collection includes three different buildings: the Lickitung Tasty Treats Figure, the Creeping Vines Tea Shop Pansage Figure, and the Spooky Fountain Frillish Figure. Each piece is a Pokemon Center original, all of which has been "delicately hand painted to highlight the details of the scene".
If you know your Christmas villages like I did, you will know that a hand painted figurine is part of what makes them so special. On the other hand, what sets the Haunted Pokemon Village collection apart from a typical village is that the figures are made of resin rather than porcelain or ceramic. This, without a doubt, has to do with the fact that they are probably designed for children. Resin is a much more durable material than porcelain or ceramic, so Haunted Pokemon Village figures will be less likely to shatter when your child inevitably drops them to the floor. As someone who has accidentally dropped more buildings and ceramic figurines than I would like to admit, this is a great feature when it comes to letting your kids help you set up your village of d 'Halloween.
Honestly, I could gush for hours on end with my enthusiasm for my new Halloween village setup this year, which will start off as a Dia de los Muertos-themed village and slowly transition to a whimsical world of Pokemon. "Pika-boo! "
As of this writing, every piece in the Haunted Pokemon Village collection is sold out without saying when or if the villages will be back in stock in time for the Halloween season. Guess there's still eBay if you run out, but with the prices these parts are selling for right now, you might be better off waiting until next year.
Next: Even Pokemon Anime Thinks There Will Be More Evolutions
Skatebird Review: Winged Thrashin
Skatebird is a silly and welcome addition to the catalog of skateboarding games. That is, depending on the platform you are playing on.
Read more
About the Author