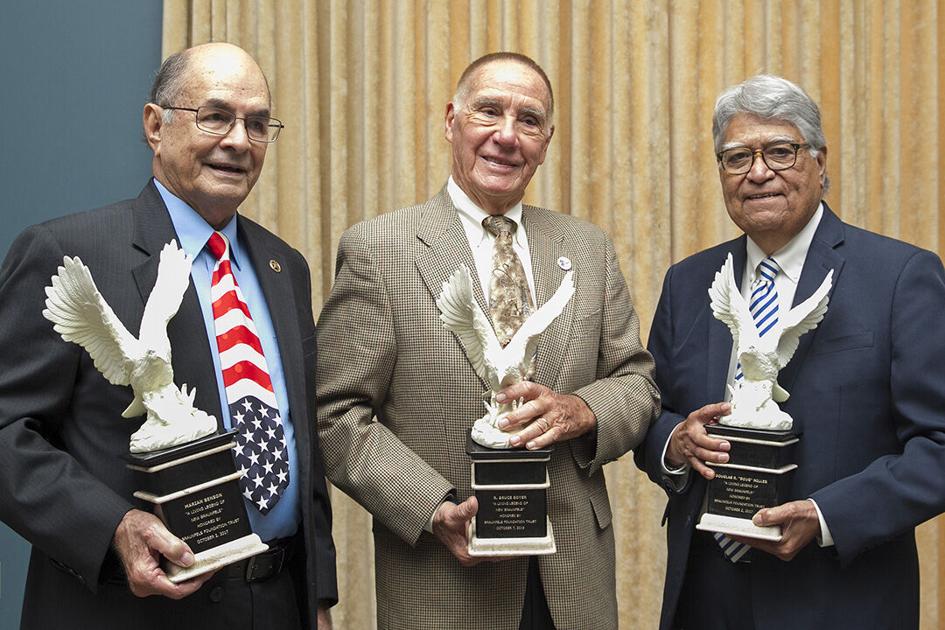 Trio of New Braunfels residents spotlighted at lunch for their community efforts | Community alert
The Braunfels Foundation Trust and a hall full of family members, residents, well-wishers and well-wishers honored a trio of living legends with a long list of contributions to the New Braunfels community – Atanacio "Nacho" Campos, Ramiro " Ray "Martinez and Jim Streety – over lunch at the McKenna Events Center on Monday.
The annual Living Legends of New Braunfels event is part of a fundraising effort for the Foundation Trust and members of the Baron and Baroness of the Trust to award thousands of dollars in 'First Career Step' scholarships. vocational / technical 'to senior graduates in the region who are seeking certification in a high-demand professional or technical career, or a two-year associate's degree for entry-level employment in a professional or technical career in high demand.
The men each received a personalized statuette and their name will be engraved on the Living Legends of New Braunfels fountain, located at the New Braunfels Civic /Congress Palace.
The first to be recognized was Campos, born on Good Friday April 15, 1949 in New Braunfels to a family that valued family, education, hard work and service.
His father, Victor, served in World War II and later as the first Hispanic police officer in New Braunfels. Victor and his mother, Victoria, were adamant about education, explaining to their children that without her career options are limited.
After graduating from New Braunfels High School, Campos, armed with a scholarship and a work scholarship, left for college at the Schreiner Military Institute in Kerrville.
After earning an associate's degree from Schreiner, Campos moved to the University of Texas at Austin and completed his undergraduate studies there with a bachelor's degree in history.
Interested in law since fourth year, Campos was accepted into the University of Texas Law School. In 1979, after passing the bar exam, he obtained a license to practice law and at the same time obtained a master's degree in history.
Campos is well known for his 20 years as a director on the board of directors of New Braunfels Utilities. When he retired from the NBU in 2020, he had served as president and vice-president; has served on the Budget Committee, GBRA Technical Committee, Governance Committee, Legislative Committee Personnel Policy Committee and Facilities Master Plan Committee.
In 2020, the Greater New Braunfels Chamber of Commerce honored him with Honors Hall Recognition for his extraordinary civic contributions.
Addressing lunch attendees, Campos said he was "humbled and somewhat embarrassed" at all the attention paid to his accomplishments.
"The culture of this community has crystallized to the point that we all now want to volunteer and work," Campos said. "It's amazing to me when I go to conferences when people say, 'What are you doing in New Braunfels to get people to sit on boards and committees? We fight to be on boards and committees because it is important. We want New Braunfels to be the kind of place everyone wants to go.
The next winner was Ramiro "Ray" Martinez, a third-generation Texan whose family made a living farming the plains of West Texas. The third of five children, Martinez graduated from Rotan High School.
His older brother Gilbert urged him to join him in Austin after graduation, so Ray left the farm and enrolled at the University of Texas.
Martinez left school and joined the military, where he trained as a combat medic during his three-year service in Germany.
Nicknamed the "mayor of the Hofbrau Haus" for his time there, Martinez could not have imagined that he would one day call another German community home.
Martinez was awarded the Austin Police Department Medal of Valor, named Peace Officer of the Year by the National Police Officers Association and was honored by the National Rifle Association for his heroism on August 1, 1966.
That day, Martinez, along with other officers and a civilian, stormed the University of Texas tower where architecture student Charles Whitman had barricaded himself, ending a shootout that killed 16 people – including Whitman's wife and mother in separate incidents – and injured 33.
In 1968, Martinez left the Austin Police Department and was accepted as a narcotics officer with the Texas Department of Public Safety. In 1973, he applied and was accepted into the Texas Rangers, one of three Hispanic Rangers.
In 1978, Martinez was transferred to New Braunfels from his duty station in Laredo, and New Braunfels became home to "Ranger Ray".
A member of the Greater New Braunfels Chamber of Commerce, Martinez obtained his Blue Coat and lifetime membership. He has served as chairman and active member of the Council of Progressive Retirees and the Military Affairs Committee. In 2002, he received the Chamber's Chairman's Award for Community Service, and in 2007, he was inducted into the Chamber's Hall of Honor.
In 2018, Martinez was recognized as a pillar of the community by the Herald Zeitung.
He is a senior member of the Wurstfest Association and has served as president of the Texas Rangers Association and a director of the Ranger Association and Foundation.
Martinez said it was a "great and great honor" to be selected as a living legend.
"I'm here 43 years ago and 40 years ago, I went to a city council meeting and people were screaming, 'Keep the Auslanders out. Close the doors. I'm glad the door was open and slipped inside. I discovered why people love New Braunfels – because it is a place where people are encouraged to participate so that this city continues to be the great city that it is through their efforts and volunteerism. But I attribute a lot of that to three things: my faith, my family, and my friends.
Jim Streety's high school football career is the business of legends.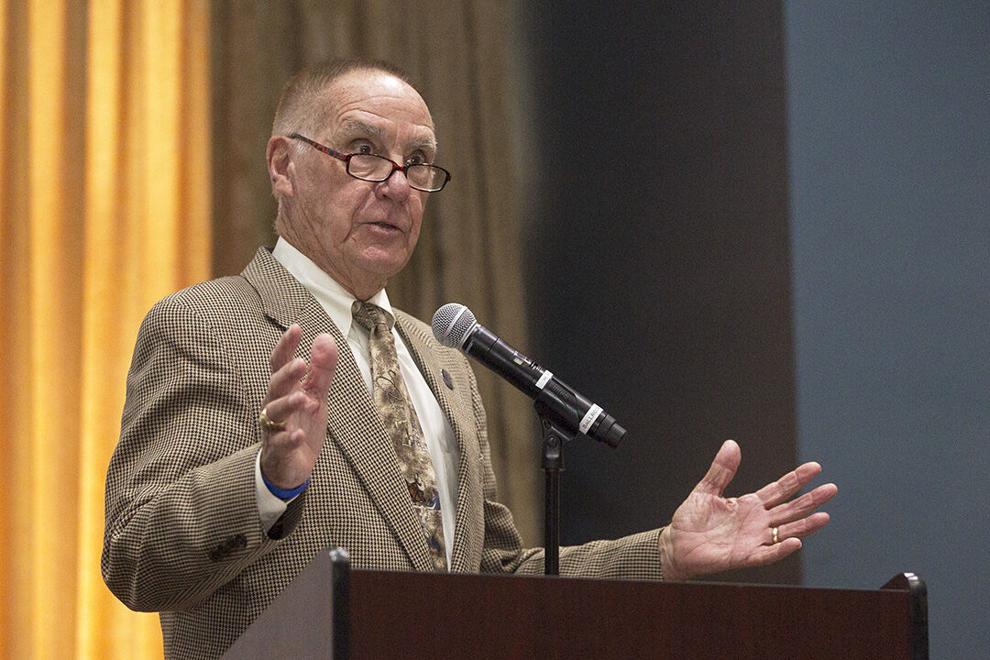 He has been inducted into almost every Hall of Fame possible, including the San Antonio Sports Hall of Fame and the Texas High School Football Hall of Fame. He even has a football field named in his honor.
After graduating from Smiley High School, Streety attended Southwest Texas State University in San Marcos and majored in accounting until the lure of coaching finally caught her. He graduated from SWTSU with a degree in education and completed a year of graduate school when in 1967 he obtained a coaching position at San Marcos Junior High School.
In 1970 the opportunity arose to train on the road at New Braunfels High School. Streety started out as an assistant in soccer, basketball and track and field until four years later, when he became a soccer head coach and athletic director.
In Streety's 17 seasons at New Braunfels, the Unicorns had 10 playoff teams, four semi-final teams and a record 149 wins, 45 losses and two draws.
In 1991, Northeast ISD offered Streety the position of head football coach and athletic coordinator at Madison High School in San Antonio.
Twenty-three years later, with 17 playoff appearances – including 10 quarter-finalists and three semi-finalists – on her resume, Streety returned to New Braunfels ISD as sporting director.
Other accomplishments include serving as president of the Texas High School Coaches Association and a member and past director of the Texas High School Coaches Association Education Foundation. Streety waited for tables to raise funds for communities in schools and slipped to the floor during the Dancing with the Stars fundraiser for the Christian Youth Theater.
He served on the board of directors of Habitat for Humanity and volunteered for the food bank. He is a deacon at Oakwood Baptist Church and a member of the nonprofit Wurstfest. Last year he was inducted into the Hall of Honor of the Greater New Braunfels Chamber of Commerce.
After giving the lunch crowd a Heisman Trophy-style stiff arm pose with the Living Legend award under his right arm, Streety addressed the attendees, saying he was "really humbled but very proud to be placed. in the company of "past Living Legend laureates who have passed.
"When you love what you're doing and have a purpose, it's not really work," Streety said. "I have been truly blessed in my life and want to make sure I use everything God has given me and blessed me with. When I'm gone, I hope people will look at me and say, "Damn old Streety looks bad. He's just exhausted. He must have used everything.
To be considered a living legend, individuals must have made a "significant contribution" to the immediate region, state or nation, reside in the region, and be widely known to make a difference through certain accomplishments. and well known.
The Braunfels Foundation Trust is a 501 (c) (3) non-profit organization founded after the devastating flood of 1972. Residents of Braunfels, Germany, offered a monetary donation of $ 1,500 as capital of priming.
The purpose for which the Foundation Trust was established was the advancement of education and science, the reduction of government burdens, the fight against community deterioration and social welfare in the greater New Braunfels.