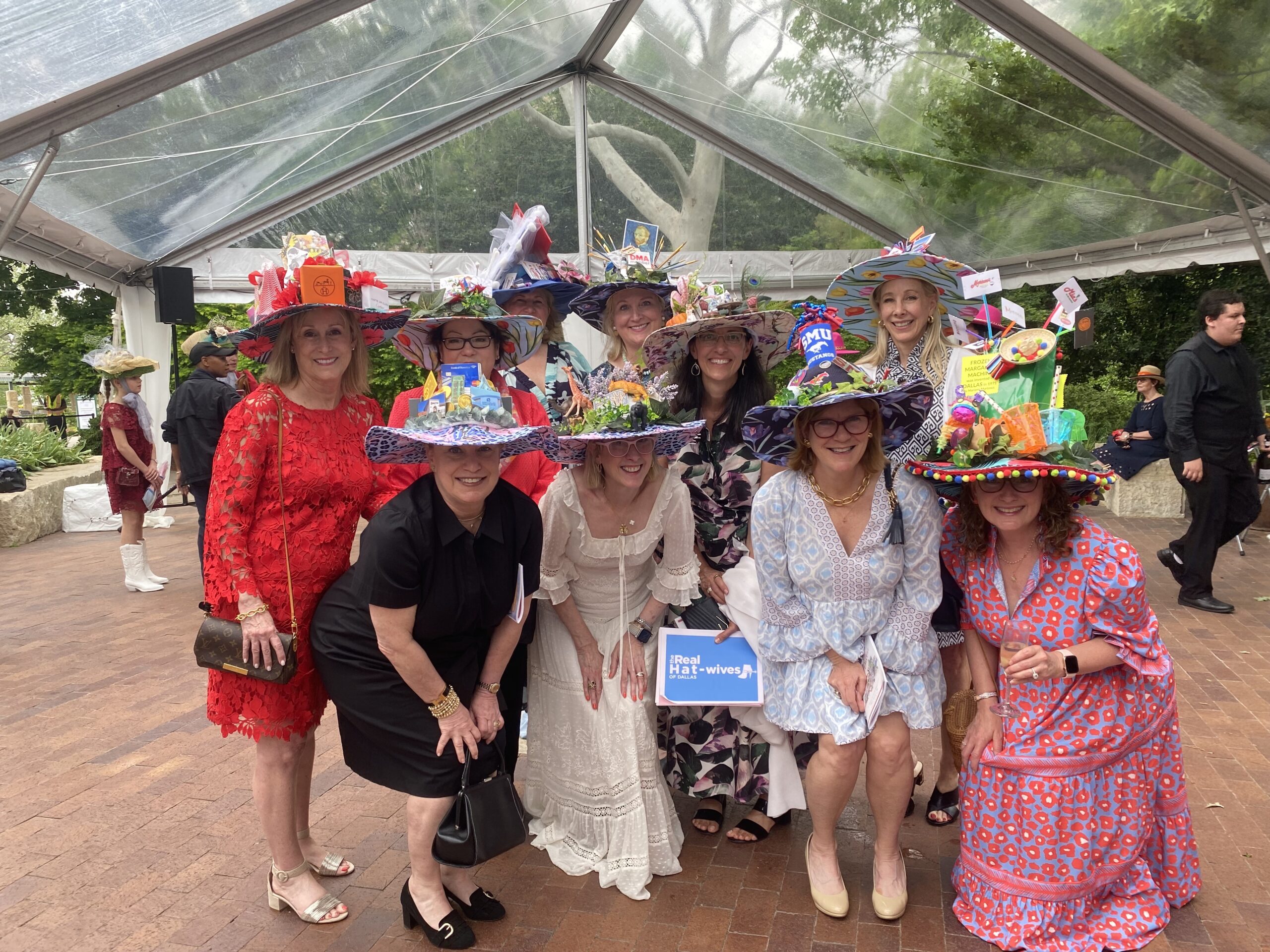 Your Mad Hatter's Tea Recap: The Real 'Hat Wives', Turkey Legs and Absolutely No Ruckling Allowed
It is my solemn duty as a journalist to report the news, whatever it is, good, bad or silly. That's why I have to report that Henry the Horse was kicked out of Mad Hatter's Tea at the Dallas Arboretum last Wednesday.
Amber Griffin brought it. She wanted to dress "Texas Glam" for this year's "Dallas" theme, but she didn't want to wear a big hat. So she borrowed the white miniature pony from a friend. "I just wanted something cute and adorable" walking down the aisle.
Since 1989, the Women's Council has held its popular Mad Hatter Tea Party every spring at the Arboretum. Supporting the Women's Garden, the event includes a fashion show, luncheon and outrageous hat contest. The revelers design extravagant caps corresponding to the theme of the year and parade on a catwalk. The competition can get intense; it's not uncommon to see someone create a hat with, say, a live goldfish to stand out.
So a horse is not so out of the ordinary. At first, Griffin's scheme worked. Henry was the mane event as he zoomed through the entrance to the Arboretum. He was decked out in a rhinestone tiara, zebra-print headpiece, and jeweled mane. The revelers adored him. Alas, Arboretum Griffin officials hold his horse; she hadn't gotten a permit for Henry. She could stay, but the horse had to go.
While some were sorry to see Henry's tail, a tea manager said Magazine D that no animals are allowed in the Arboretum, except those that already live here. So maybe next time, if you want to sneak an animal in, try a squirrel. However, you could probably make a strong case for the White Rock Lake eagles.
Of course, Henry wasn't the only guest gimmick used to crush the competition.
Linda Burk dressed as State Fair. His hat included the iconic Ferris wheel, Big Tex and even corndogs. She finished the look with a basket full of treats. Burke circled the champagne reception handing out corndogs, turkey legs and cans of beer.
Elizabeth Smith topped her har with a rotating display of Barbies dressed in past Mad Hatter themes. Each doll also had its own hat. Like Leonardo DiCapRio, Smith was trying to hat-ceive his win deep into the judges' subconscious. Smith chose the hat to appeal to the judges, she said. She had won the last two years and was hoping for a third.
Everyone was "awed and amazed" by the giant sign of Pegasus atop Prashe Shah's hat. Shah says her children helped paint the sign and she accented it with red, white and blue flowers. And although the Pegasus appeared to be in just as much danger of falling as the real one, Shah maintained it without the help of a city council budget item.
Some women, in a move familiar to fans of The single person, used their hats to promote their businesses. Connie Siegel Ardmore covered her Dallas Zoo-themed hat with figurines from Ardmore Ceramic Art in South Africa, which she sells in her shop, Elements Boutique.
Over 530 people attended, the largest crowd for the event to date. As the sun burned through the clouds, revelers sipped champagne — while it might have been there, I didn't actually see any tea — and took pictures of each other's hats.
Finally, it was time to announce the winners. There were seven categories, including "Uptown Girl" (Best Fascinator) and People's Choice. Linda Burke and Prashe Shah hung "Everything's Bigger in Texas!" and "Most true to theme", respectively. Terri Irby and Sharla Bush tied for Best in Show.
One of the fiercest categories was Best Group Hats. There was a large contingent of women wearing matching hot pink head coverings. A group of 10 friends each chose a different industry or location in town and came together as "Real Hat-Wives of Dallas". The category winner was a small group of women called the "Dallas Arboretum Gardens Group". Everyone's hat was about a meter tall and represented different events at the Arboretum. Proximity, you say? No one seemed to pay attention.
The most brutal enemy of all was the wind. Hats were flying. Spilled drinks. "That wind is amazing," event chair Claire Catrino told the crowd, "almost as amazing as you are."
Even Elizabeth Smith's Mad Hatter Barbie hat fell victim to the gales that afternoon – the top literally toppled over on the ground. However, Smith got it back in place in time to accept his three-round win. (It's tied for "best botanical component.")
After the awards, lunch started around 2 p.m. There were plenty of tea-friendly dishes, such as sandwiches, deviled eggs, salads and bite-sized pastries, but again, I didn't see any tea. The wine, however, flowed freely.
I was seated outside, with a nice view of the lake. At each seat was a "fashion show menu." The afternoon show featured pieces by New York designer Tanya Taylor, who was a guest judge in the day's hat contest. As the models showed off outfits provided by Tootsies, guests could circle the looks they liked on their menu. Jan Strimple Productions put it all together, which included a thoughtful range of models in terms of shape, breed and age.
It all ended around 3:30 p.m. There was quite a wait in the valet queue. I heard whispers of guests slipping $20 to parking attendants to get their cars faster. But everyone was in good spirits, discussing the day's events. Many, myself included, finally admitted defeat to the wind and took their hats off for another year.
Author
Catherine Wendlandt
See profile


Catherine Wendlandt is an associate online editor for Magazine D's Living and Home and Garden blogs, where she covers all…